Photos are the records of our life & work, they are important to us. Digital camera can produce the most beautiful yet professional photos than all other devices. If the photos stored in the digital camera are lost, what should we do? Can we recover photos from digital camera? The answer is YES. Photos which are deleted or erased from digital camera can be recovered by data recovery software.
There are a lot of data recovery software tools that can recover deleted or lost photos from a digital camera, even from a damaged digital camera. But before getting photos back, you should stop using your digital camera to take new photos in case that the lost photos would be overwritten by new photos. To recover photos from your digital camera, download the data recovery software like Recuva, DoYourData and install it on your PC or Mac.Recuva is a free data recovery tool that can recover photos from hard drive and digital device. It is one of the most popular free programs. But it doesn't have deep scan function, so may not recover all your lost photos. But Recuva is still not a bad choice for recovering photos from digital camera. If you are an OS X user, you can use Recuva Mac to get photos back. Another free data recovery software tool, DoYourData, is more powerful. DoYourData provides both quick scan and deep scan for data recovery. It quickly recovers deleted photos, also recovers lost photos due to format, virus infection, water damage etc.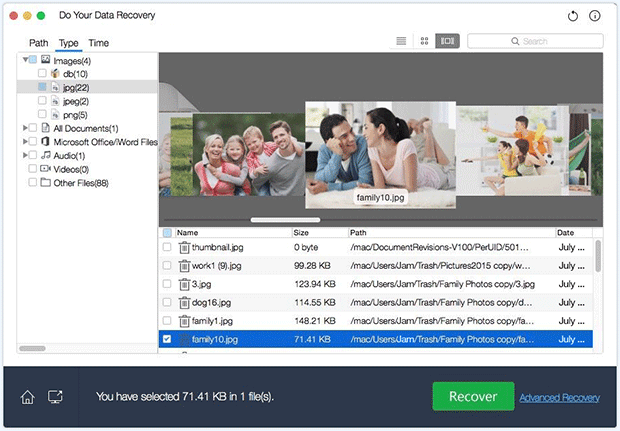 Compared with Recuva, DoYourData has a better UI. The wizard-based interface makes the program very easy to use so that you can easily use it to get lost photos back. DoYourData lets you select file types before start recovery to speed up the process. So before starting scan of your digital camera, you can choose to only recover photos. DoYourData will scan your camera and just only find photos in the scanning results.
After scanning, you can preview the photos to check their quality and details, then you can recover and save them. It is not recommended to save the photos directly to the digital, you can save them on your hard drive. To permanently protect your files, you'd better back up your photos with Acronis or other backup software, or sync the photos to cloud storage. When your photos are lost, you can extract the backups to get the photos back.