If your business' marketing budget is bigger than ever, then why not put it to good use? Massive events are key to raising the profile of any business within a local community, nationally, or even globally. So long as you do them right! No idea where to begin? Here's how to host a large-scale event to promote your business!
Sort The Logistics
Firstly, you need to sort out the logistical elements of hosting a massive event. You're going to need a venue, first of all. If your business is suitable, then outdoor venues are often a great option. This is because you can fit a far greater number of people within them, and they're often cheaper to hire out and run. With outdoors, however, there is a load more to think about. So, consider this before you sort your venue. Either way, you're going to have to make sure transport facilities are there. If you have a load of guests arriving from further reaches of the country, then ensure you base your event near a train station. Being relatively near an airport is helpful, too, if possible. If you've opted for an outdoor venue, then little things such as catering and toilets need to be accounted for. This simplest toilet solution we've found is to get hold of a truck that can service your portaloos. Check out some of these portable restroom trucks for sale if you think that one could be of use to your business, particularly if you host a lot of events. Once logistics are sorted, you can move on to more interesting things.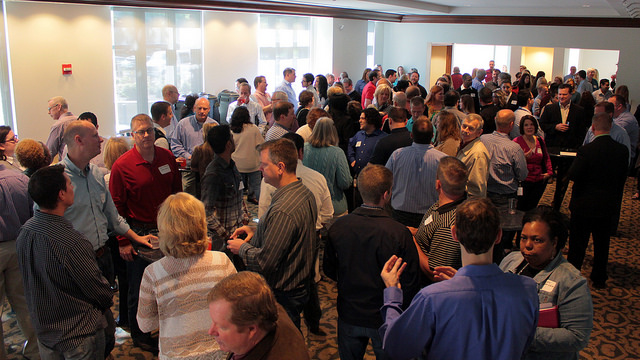 Content
Next up, you need to sort out the content for your event. What's going to happen? Why? How? All these questions need to be answered. Ultimately, this event is to promote your company and raise the profile of your business. So, bare that in mind when constructing a plan. A large-scale event gives your company the chance to show of what it does best. Whether that is motor vehicle production, I.T infrastructure or even catering. Make sure that your guests get a hands-on experience and look at what you guys do. Furthermore, ensure that there is a lot of public speaking going on. Your members of staff are more than likely willing to stand up and talk about their successes within your business. This will, ultimately, make your company look much greater to the casual onlooker.
Advertise It On Social Media
You are likely to invite specific individuals, but you should also open up your large-scale corporate event to members of the public. In addition invite employees from other businesses within your sector. This is a great way to extend your client base and make additional B2B connections. The best way to do this is to advertise your event on social media. Master social media sites such as  Twitter, Facebook and Instagram to really build-up a buzz around your event. It will definitely increase the number of attendees! Be sure to upload picture and videos of the event to your social media channels. This will ensure that clients and the public are more likely to attend your next one in the future.
Hopefully, this post has shown you how simple, easy and effective hosting a large-scale business event can be. Your company's profile is sure to skyrocket if you pull this off – good luck!