Like many other traditional crafts, recently sewing has enjoyed an increase in people taking it up as a hobby. Along with baking and knitting, people are celebrating sewing as a skilled craft that's fun and a useful skill. There's something amazing about the thrill of looking at something you've made yourself and knowing that you have the skills to do it. Plus, it's a great thrill when someone asks you where you got your dress or cushion cover, and you can proudly tell them that you made it. If you are just beginning to get into sewing, one of the most important things you can learn is which fabrics are appropriate for different purposes. Being able to select a suitable fabric for a project makes all the different when you start putting it together. And it's an essential skill to learn when you're beginning to sew.
Fabrics for Beginners
When you're just starting out, you want to use fabrics that are easy to handle. As well as being easy to sew, it's also best if it's not too expensive. You don't want to waste your hard-earned money on sewing practice and projects that go wrong. You will make mistakes when you're learning, and you'll definitely ruin some fabric. So don't go for high-end materials. But you can help yourself to avoid disaster by picking a suitable fabric that's durable and difficult to damage. These include woven fabrics that won't slip or stretch when you're sewing, such as cotton, linen or a cotton-linen blend. It's best to avoid using anything like silk, rayon or shiny polyester, which is more difficult to keep under control.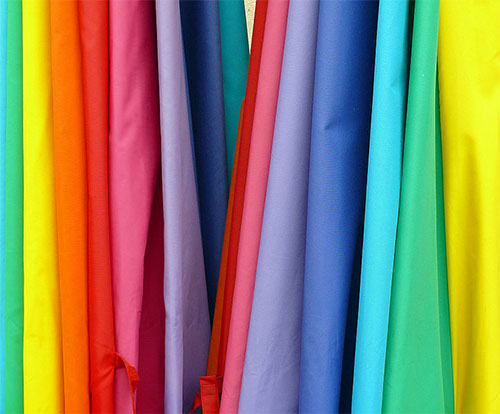 Photo courtesy of Snaps880
The color and print of the fabric are important too. Matching up large prints can be difficult when you're still learning, so start with plain colors or small prints. Of course, you can learn to match up larger prints later on, but wait until you're feeling a bit more confident. You should also try to avoid heavy fabrics, like denim and leather. Use light or medium-weight fabrics instead, with a smooth finish, instead of a bumpy fabric such as corduroy.
Before Buying Fabric
Before you start buying fabric learn about different fabrics and how they behave when you're working with them. If you can, go to a haberdashery or fabric shop and get a feel for the different types of fabric, instead of buying online. If you don't know what velour is, don't order reams of it for your next big project. When you have a certain garment in mind, do some research about the best materials to use for that particular piece of clothing. Of course, you can essentially use any fabric you like, but some will work more than others. If you're using a ready-made pattern, check what sort of fabric the pattern recommends.
And don't forget that you should buy a fabric that you like and want to wear. Once you've chosen your fabric, and it's been cut from the roll, you're unlikely to be able to return it.