A good pair of shoes is an essential ingredient for a stylish personality and this style can only be achieved if one is comfortable in his/her shoes. Be a fashion follower but never over or under estimate yourself, this is a fact that some ladies can't put on high heels but the fact only works when those ladies admit their problem. Buying a perfect pair of shoes is quite a task and it require time and attention otherwise all the money spent on the purchase can get ruined. Here some useful suggestions have been discussed which can guide you in buying a prefect pair of shoes for you so let's have a look.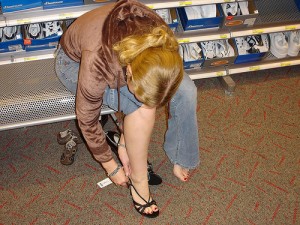 Always keep notice of the physical changing of your feet and every time when you wish to go for shopping of shoes, before going to the market check the actual size of your feet.
The size of both feet can be different so while measuring your feet, carefully measure both of the feet separately.  
The selection of winter and summer shoes should be different because feet in the cold season are smaller than those in hot season because the hot climate tends to swell your feet at the end of the day.
Give proper attention towards the comfort factor and durability of your shoes, the style should be considered but not at such a level that the comfort level gets vanished.
Try the shoes in the store and walk some steps to see if the size is perfectly fit for your shoes or not.
High heels must have to be avoided for the daily carrying purpose because they cause some bone and joint's problem in future.
While selecting the stuff always keep in mind the daily routine of you for which you are buying the shoes. The light stuffs don't work for full day carrying.
The shoes is thus the most important thing for your personality, it can make you style and also ruin the style as well so you have to be careful while buying the shoes and the key issue to keep in mind is your comfort which should not be over looked.